Sarasota's Spicy Simple Black Beans
A quick easy recipe using canned black beans for a side dish any night of the week. I love this with my Margarita Chicken or just any citrus grilled chicken or fish. Maybe a nice spicy chili rub on chicken would be a nice dish with these beans.
Directions
Vegetables -- In a large saute pan, heat to medium and add the olive oil and saute the onion and garlic and cook on medium, not too high, you want them to sweat more. Cook 4-5 minutes.
Spices -- Add in the green chilies, salsa, cumin, chili powder, salt and pepper and mix well, still on medium heat. Now add in the beans and stir to combine.
Just let it hang out and cook on low heat while you prepare your main course. As it simmers I often add just a little chicken broth for some moisture. Each time it is different, 1/4 cup up to 1/2 cup, depending on how long they simmer. After 5 minutes the beans are done, but if you are still waiting on your main dish to be ready, maybe add a little more broth as the beans simmer so they don't dry out.
Right before serving -- taste for salt and pepper and stir in the cilantro. That's it!
Reviews
Most Helpful
What a great way to dress up ordinary beans! I halved this recipe and it was plenty for a family of four. I used veggie broth, to make it a vegetarian bean recipe. Also, I used salsa verde since that is what I already had on hand. Thanks, Sarasota, for another winner!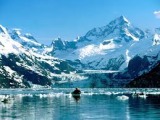 Wonderful beans! The flavors were great, and it was a very easy dish. I served with Pumpkin Enchiladas, which was a fabulous combination, and I look forward to serving it with other dishes in the future. Thanks for sharing!

This was phenomenal! I even forgot the cilantro and didn't care a bit. Perfect! I used a super spicy salsa...which didn't make my kids happy. I increased the garlic and increased the green chili's. But oh so easy and oh so tasty. An easy go-to for any mexican fare. Definite repeater for us.