Sarasota's Simple Yogurt, Basil, Lemon Dipping Sauce
PSASSY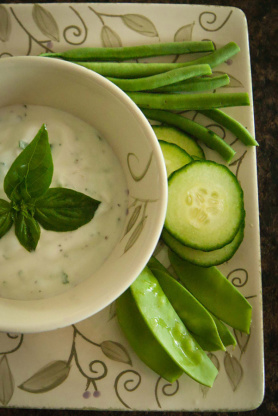 This is so easy and quick. I made this for lunch today to go with steamed artichokes which I made with Artichokes Steamed in the Microwave. I was extremely short on time and almost canceled making the artichokes, but found this. What a great way to cook them in just minutes. And they were perfect. Now the sauce is a long time favorite which is just easy. It is wonderful on a vegetable platter, also with fried vegetables as a lighter fresh sauce, grilled asparagus as an appetizer, and of course my "chokes." What a nice light appetizer. There was 4 of us and we ate quite a bit, but I love to make the whole batch and during the week I will add some with steamed vegetables. This is also a nice condiment on soups (my favorite is pea soup), in pita pockets. So don't throw the leftover out.
Yogurt -- The best way to do this if you have time, is to put the yogurt in a piece of cheesecloth in a strainer or colander and then in a small bowl over night (wrapped with saran wrap. This allows the sour cream to drain, so the dip isn't wet or runny.
Personally, I had no time, but I did buy the greek yogurt which is a bit thicker, mixed everything together and enjoyed. Also, I have used this with just everyday yogurt and did not take the time to let it set over night and it was fine.