Sarasota's Mango Lemonade With a Kick
Ambervim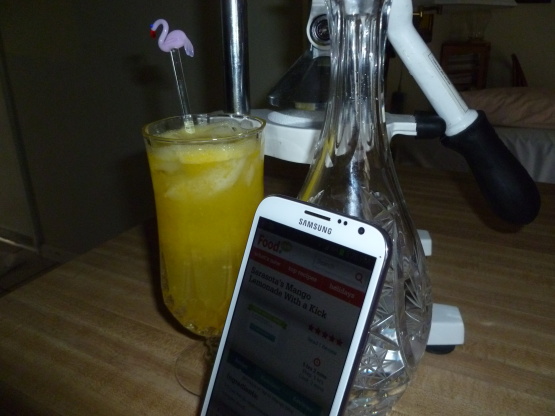 I love mango, and trust me ... when mangoes are in season, I have bags of them. And I love lemonade, so this is the perfect drink. Add some vodka or bourbon for the adults or just serve as is - it is a great refreshing drink for the spring and summer seasons. Light refreshing and can be served breakfast, lunch, dinner or after hours.

Made for a dinner party. It is awsome!!!! The ginger really makes it! I set out glasses, this puree, club soda, ice, vodka, gin, bourbon and rum. I gave instructions and people helped themselves. By then end of the night it was all gone. So today I am making more so I can take a pic and enjoy it all week.
Simple Syrup -- In a small sauce pan, add the water, sugar and ginger and bring to a boil. Reduce to medium low and simmer for 5 minutes to infuse the ginger flavor. Remove from the heat and refrigerate for at least 2-3 hours.
Puree -- In a blender, add the mango, lemon juice and chilled simple syrup until smooth. Then add to a pitcher, and chill for another 2-3 hours until icy cold.
Serve -- In the pitcher with the mango lemonade puree, add the club soda and mix well. To each glass, add ice and a few mint leaves (optional vodka or bourbon), top with the mango lemonade and garnish with a fresh lemon slice. Easy and refreshing.
For the adults: One (1) shot of either Vodka or Bourbon to each glass.
ENJOY!