COOKGIRl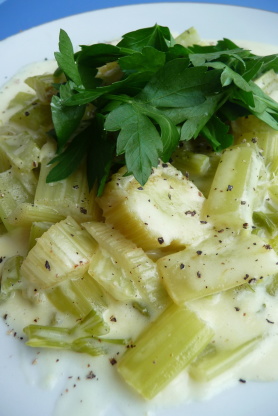 Just easy. Twenty (20) minutes on the table, comforting, easy, inexpensive and it compliments any dish. Tired of broccoli, green beans, corn, etc ... try this dish for a nice change.

What was I thinking making a creamed celery dish in the third week of July? A: using up a surplus of organic celery from our CSA box. This is not something I would normally make in summertime but: it greatly reduced my surfeit of celery. And it tasted darn good, too! I used all parts of the celery including the hearts and leaves. This would make the perfect side dish in the fall/winter months. Thanks for posting! Will make again at a later, colder date.
Celery -- First, when cutting the celery, cut lengthwise and then cut in 1" pieces. This allows for quicker cooking.
Then, in a medium saute pan, simmer the celery in the vegetable broth, covered, for approximately 12 minutes until tender.
Sauce -- Drain the celery, but reserve the broth. Put the celery back in the pan and cover to stay warm as you make the sauce.
In a small sauce pan, add the butter and melt on medium heat. Stir in the flour to make a roux and mix well for just a minute to get rid of the flour taste. Slowly whisk in the reserved broth and the cream. Keep on medium heat, you don't want it to boil. Continue to cook another 2-3 minutes until the sauce thickens. Season with the nutmeg, salt and pepper.
Finishing -- Add the celery back in the sauce, parsley and cook another minute, check for seasoning once again and ENJOY!
Serve -- This is a great comforting side dish which goes well with anything.