Sara 76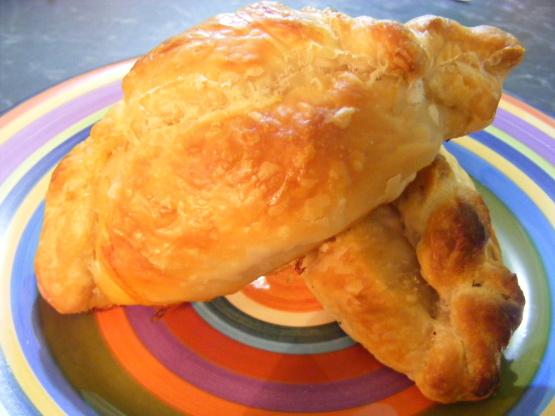 I used to make these pasties to sell at the local market, and they were one of my top sellers!. They are also my hubby's favourite!

Fantastic! I love pasties and have struggled to find some that live up to my expectations. Even my partner (who doesn't like pasties) liked these! Made them exactly as described, but cooked for closer to 30 mins. Great with bbq sauce. Thanks for posting!
Combine meats, vegetables, and pepper in a large bowl. Use your hands to really mix it well.
Cut each sheet of pastry into 4 squares, and brush edges lightly with milk.
Place 1 dessert spoonfull of mixture onto each square, and fold pastry in half, corner ways.
Press edges together and roll edges in, to seal.
Brush each pastie with milk, and bake at 200C for 20 minutes, or until patry is golden and flaky.
These freeze great, and defrost quickly in the oven or microwave for a quick lunch or dinner.