Peter J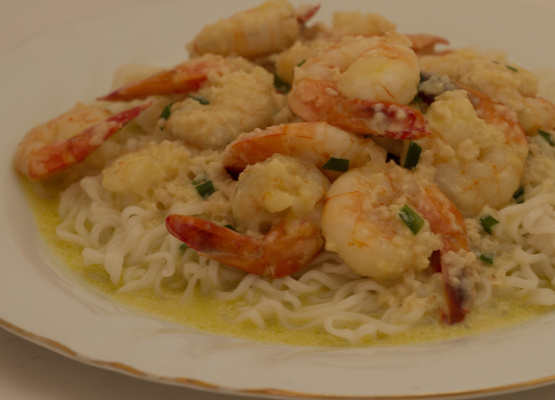 We love garlic prawns, and this is my family's favourite way of making them. It is quick and simple, and pure heaven! You can serve it on steamed rice, or tossed through fettucine (we use rice for a starter, but prefer it with fettucine if we have it as a main). It makes a great starter at a dinner party (serves 4 as an entree) or as a special main meal for 2. :) Don't be put off by the butter and garlic amounts, remember that ths is supposed to be a rich, creamy, garlicy indulgence...not a diet meal! Lol

Mmmm wonderfully decadent, creamy and garlicky! Only thing I changed to suit what I had on hand was use fresh chives instead of parsley and served over noodles. As you said hardly a diet meal but a wonderful once in a while treat. It would also go really well with some crusty bread to soak up the juices as well.
Heat the olive oil. Fry the prawns in the oil until they're only just cooked.
Add the butter, garlic and parsley. Reduce the heat and cook for 1 minute, stirring.
Add the cream, and simmer until the sauce reduces just a little.