Sarah's Swedish Apple Pie
Rita1652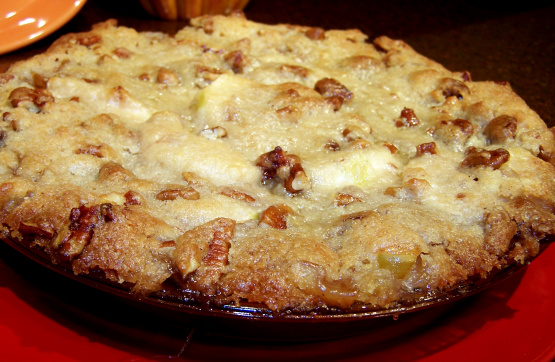 I am not a pie crust person so Sarah suggested this great pie with the crust on top and not a traditional pie crust flavor. It was way yummy and quick to make.

Yum, Easy! I did grease the pan first! I suggest filling the pan 2/3 the way up. Because it will overflow. I would also go for 1 stick in place of the 3/4 cup. Used pecans which I adore. I had organic so I did leave 1/2 the skin on. This is just so easy and comforting. Served with ice cream. Thanks
Place the peeled and chopped apples in the bottom of a standard pie plate. Sprinkle sugar and cinnamon on top.
In a small bowl mix topping ingredients and pat down on top of the apples.
Bake at 350 for 45 min or until lightly brown.