Sarah's Spinach Dip from Heaven

If you make this dip for a party, you will be the star of the show. Every time I've made this, it's gone within minutes. This will blow your mind and it's super easy!
Directions
Combine all the ingredients in a large bowl, and refrigerate at least 3 hours. Don't be impatient--it will taste better.
Hollow out the sourdough bread using the removed chunks for part of the dippers and transfer the dip from the bowl to the bread bowl.
Watch it get gobbled up!
Reviews
Most Helpful
This is the dip I always go to. It's the best I've come across. Always asked for the recipe!

Really excellent dip that is strangely addictive! I decided to forgo the bread bowl, and just served this with crudites and water crackers, which was perfect. Super easy and super tasty! Thanks for sharing.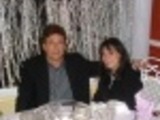 This is always the first thing gone at parties! Everyone rants about it and i totally take credit for it. Thanks le beast!