Annacia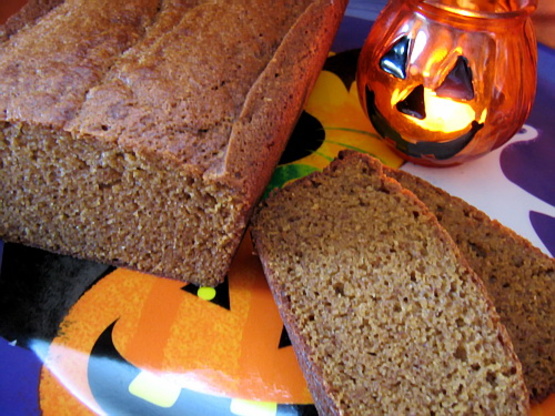 This is another recipe I got from my Home-Ec class in high school (great class!). I make this every year and it is such a hit, I give it for gifts.

This makes a moist dense loaf that DH reports as being "Very Tasty". There is no oven heat given but I set it at 330 for an hour and that seems to do the trick just fine. DH enjoyed it because I told him that it's Nut Bread without the nuts, if he knew it was pumpkin he wouldn't come within 10 feet of it. Men! I should also mention that I made a single loaf.
You will also need: 2 bread pans about 9-inch x 5-inch x 3-inch (I use the disposable ones to make cleanup easy).
In a large mixing bowl, mix sugar and shortening until fluffy.
Stir in eggs, pumpkin, and water.
Blend in flour, baking soda, salt, baking powder, cinnamon, and cloves.
Pour evenly into pans and bake about 70 minutes.
Plunge a toothpick or knife into the center of one of the loaves at this point to make sure it comes out clean.
Serve warm with butter or cream cheese.