sarahcis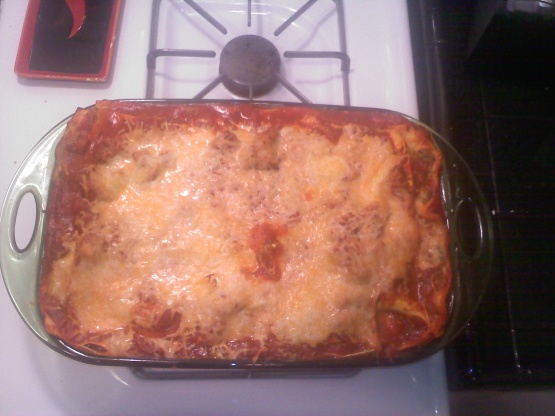 This is the 1st time I've completely invented a recipe on my own!!! I've made lasagna before, following a recipe or two, but this one certainly takes the cake! A little sloppy, a-lot-o-saucy, and scrumdidleeeeumptious!!!!! My 12-yr-old went for 3rd's while she was supposed to be cleaning up the kitchen :) It's an easy recipe you can make on your own, or with your kids.
Cook the sausage with 1-2 tsp garlic salt, 1-2 tsp onion powder, 1 tsp oregano, and the black pepper on medium heat. Add the spaghetti sauce and let simmer while preparing other ingredients.
Mix together 1 1/2 cups of the light mozzarella, 1 1/2 cups of the light cheddar cheese, light cottage cheese, low fat ricotta, spinach, 1 tsp garlic salt, 1 tsp oregano in a bowl and cool in the refrigerator if needed.
Heat oven to 375 degrees.
In a 9x13 oven dish, layer ingredients sauce-noodles-cheese mixture-sauce, incorporating diced tomatoes with sauce if desired. Once finished, the top layer is sauce and the rest of the shredded cheeses.
Tent with foil and bake for 45-60 minutes (use the recommendation on the box of noodles).
Let stand for 15 minutes, and serve with your favorite warmed bread.
Our favorite is Sourdough!