Sarah McLachlan's Asparagus Frittata
Bergy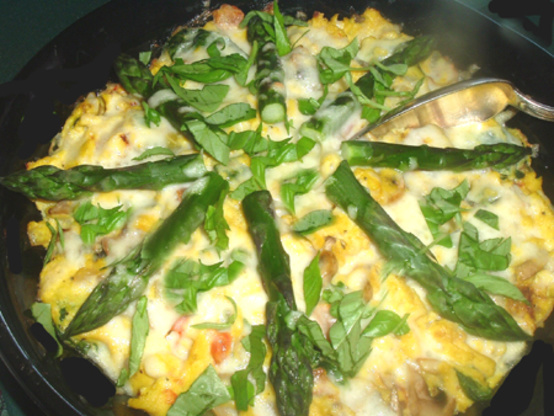 Another recipe from my celebrity recipe collection, for yours.

Top Review by Bergy
This was very tasty, the ingredients complimented each other to give an over all pleasant flavor. I would rather have baked it so it would have an even consistency. Pouring the eggs into the skillet and giving them a stir made them seem almost like scrambled eggs. The recipe was enjoyed by all but I was critical of the appearance when I served it. I will make this again but I will pour the eggs over the veggies in a casserole dish bake it until set then add the cheese and asparagus continue baking until the cheese has melted, decorate it with the basil & serve
Preheat oven to 350 F (180 C).
Remove the tough ends of the asparagus and discard; blanch or steam asparagus for 5 minutes, or until bright green and tender; rinse under cold water and drain thoroughly.
Beat eggs and milk together; season with nutmeg, salt and pepper; set aside.
In a ovenproof skillet, preferably cast iron, saute onion in oil until translucent, then add mushrooms and saute until golden brown.
Add spinach and cook until completely wilted.
Add chopped tomatoes.
Pour egg mixture into skillet; stir briefly.
Sprinkle mozzarella on top, decorate with asparagus and basil and bake 10 to 15 minutes, or until cheese is melted and bubbly.
Serves 4 generously.