Sarah Bernhardt Cakes (Sarah Bernhardt-Kager) (Danish)
twissis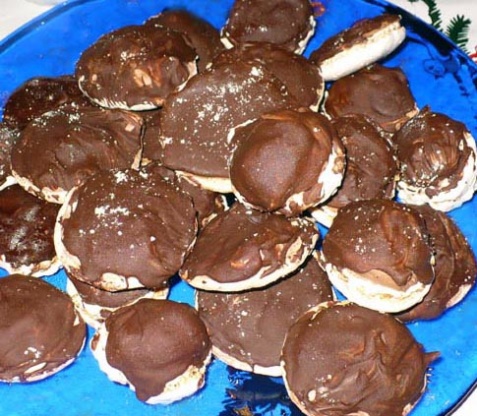 Sarah Bernhardt, the great French actress, captured Danish hearts to such an extent that they named these special chocolate mousse topped meringue cakes after her.

These sweet sensations are really more like a cookie than a cake & are a classic confection here in Iceland. They are quite simply *TDF* & fairly labor-intensive to get right, but so worth every moment of the effort. Chilling the meringue bases well b4 applying the choc mousse & again b4 adding the layer of choc topping is key to success. It also works best to cool the choc topping just a bit & apply it w/a soft pastry brush than to pour it over them or dip them in it. They are served right from the freezer here. All that said, they are truly amazing, 10* worthy & decadent choc heaven w/every bite! Yum! Thx for sharing this recipe w/us. :-)
1

egg white

118.29

ml sugar

70.87

g package blanched slivered almonds, pulverized in a blender

14.79

ml cornstarch

4.92

ml almond extract

TOPPING AND DECORATION

236.59

ml semi-sweet chocolate chips (6 ounces)

78.07

ml butter

1

egg

4.92

ml grated fresh lemon rind

4.92

ml sugar

4.92

ml vanilla

12

blanched almonds
Cover a baking sheet with parchment paper or grease and flour it.
Preheat oven to 350°F.
In a large bowl, whisk the egg white until foamy; add the sugar, and beat until mixture holds soft peaks.
Fold in the pulverized almonds, cornstarch, and almond extract.
Spoon into 12 mounds evenly spaced on the prepared baking sheet, allowing plenty of space between them.
Bake until top is dry and cakes are a creamy color, about 10 minutes.
Remove from sheet and cool on rack.
Melt 1/2 cup of the chocolate chips in a small bowl over hot water.
Melt the butter in another pan.
Whip the egg with the lemon rind, sugar, and vanilla until light and fluffy.
Mix the COOLED chocolate and butter together and add the egg mixture.
When this has thickened, spread it over the base of the cakes, allowing the mixture to set.
Melt the remaining chocolate and pour over the firm chocolate layer.
Decorate each cake with an almond.
Makes 12 cakes.
The Great Scandinavian Baking Book…-- Beatrice Ojakangas.