Sapa Sui ( Samoan Chop Sui)
Satyne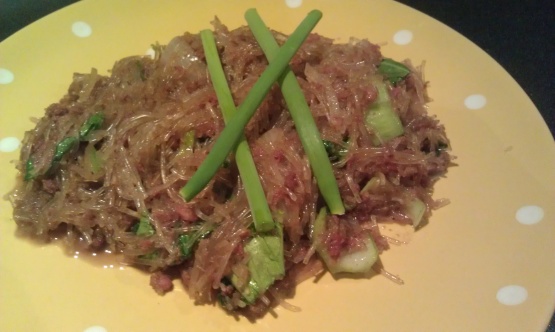 This is from alohaworld.com. I'm posting it for ZWT7-South Pacific. Note: The weight of the bean thread is a guess. Just use 4 regular sized packages. New Zealand corned beef was specified but any canned product will work.

Top Review by Satyne
This was quite yummy, although I did need to make a few mods. To start, only used 250g noodles, this was more than enough for 6 serves and used up all the chicken stock. Also only used 1/2 cup soy sauce. Made everything else as written. Total cook time was far less than shown, which is awesome, but may be due to me using canned corn beef which I had on hand. Made for My Food Odyssey American Samoa.
Cook bean thread in broth 3-4 minutes. Turn off heat and set aside until soft enough to cut with scissors.
Saute onions in oil until tender. Add corned beef, cook thoroughly.
Add bok choy, mix well; then add cut bean thread mixture.
Add soy sauce to taste.