Annacia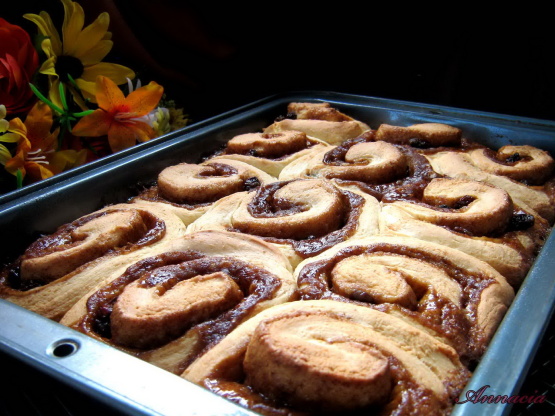 I forget where I got this recipe, but they are so good. I often take these to work and my co-workers just love them! I especially like to make them on holiday mornings. They are worth the time it takes to prepare! They never last long anywhere I take them. I suggest this recipe for experienced bakers. Edited 1/4/08 to correct yeast package amounts.

DH was half way through a roll when he said that the had to be 5 stars. I skipped the glaze as I have no powdered sugar in the house. I think that the dough withs have risen higher but my mixed self destructed after I had just started the beating (I have to get a stand mixer!). I used brown sugar, cinnamon and raisins for the filling as that is what dh likes and I made them for him.
In large bowl, combine yeast, salt, 2 cups flour and 2/3 cup sugar.
Heat 2 cups of milk and 6 T butter. Gradually beat liquid into dry ingredients until blended.
Increase speed; beat 2 minutes. Beat in eggs and 1 cup flour; beat 2 minutes.
Stir in 5 cups flour. Knead dough 10 minutes. Shape dough into ball. Cover and let rest for about 15 minutes.
Meanwhile, melt 6 T butter. Mix nuts, cinnamon and 1 1/2 cups sugar.
Grease roasting pan.
Cut dough in half and roll into 20 x 10-inch rectangle. You shouldn't need flour to roll dough.
Brush dough with 1/3 of the butter; sprinkle with half of cinnamon/sugar mixture. Roll into jelly roll fashion. Slice crosswise.
Repeat with other half of dough. Cover and let rise 30 minutes in pan.
Then brush with remaining butter. (If necessary, melt some more butter and pour over rolls).
Bake 25 to 30 minutes at 350 degrees.
For Glaze: In cup, mix powdered sugar with 4 t milk. Brush glaze over hot rolls.