Santa Rosalia Style Hot Dogs
lazyme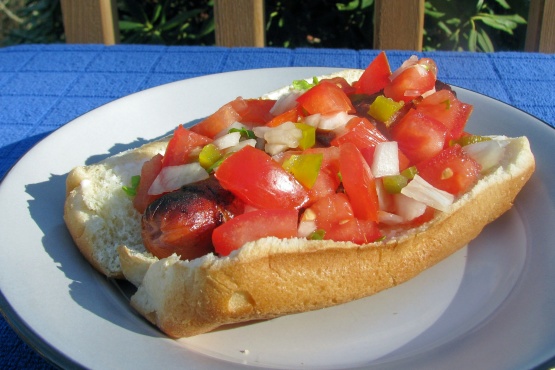 Santa Rosalia is a small Mexican mining town located on the coast of the Sea of Cortez (Baja Side). Their claim to fame is a church built by Gustave Eiffel and their hot dogs! At dusk every night, a street cart parks across from the church and sets up for business. Their hot dogs are wrapped in bacon and served on a slightly sweet bun, with a 'sea' of condiments to choose from. They are, by far, the best hot dogs I've ever eaten! NOTE: So far I've not been successful in replicating their buns, but this recipe is still wonderful with a high quality store bought buns (such as Sara Lee Soft and Smooth Buns) or Hamburger or Hot Dog Buns ! UPDATE: I've been making them on a griddle on the stove top and it works great.

This was a new and exciting way to top a plain old hot dog!! The whole family loved it and told me they couldn't wait for me to make these again!! Loved the bite of the cilantro. I also use some cheez whiz on top.... Thanks for posting! Made for ZWT 5
Mix together chopped tomato, onion, cilantro and jalapeno and set aside.
Preheat grill to medium/high.
Wrap hot dogs with bacon, securing with a tooth pick.
Warm hot dog buns and wrap in foil.
Grill dogs to desired crispness, turning often.
Serve on buns with assorted condiments.
ENJOY! :=) .