loof751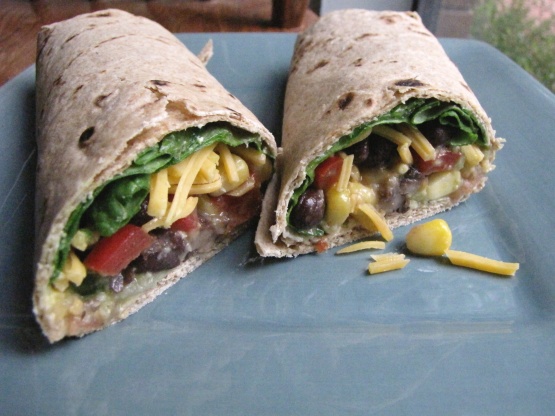 I combined elements from the other Santa Fe recipes on this site to make this version. I think the adobo spread and vegetable relish benefit from a night in the fridge; it's probably not essential, but it sure makes assembly a breeze to have prepped everything the night before.

Love, Love, Love this! It is perfect as written. The flavors mingle together perfectly and is absolutely delicious! I can't wait to enjoy this on a hot Summer night. It is going straight into my "Favorites of 2011" cookbook right away! The only thing I might do next time is double the cream cheese mixture. I am not sure I have enough for my leftovers. Thanks for sharing!
Whisk adobo sauce into cream cheese. Adjust heat to taste. Refrigerate.
Combine pepper, corn, beans, cilantro and lime juice. Season with salt and pepper if desired. Refrigerate.
Spread each tortilla with a thin layer of adobo cream cheese out to the edge. Place lettuce leaves across the middle third of the tortilla. Sprinkle with cheddar cheese.
Using a slotted spoon, spread 1/3 cup vegetable relish over lettuce. Spread a generous 2 T. guacamole over relish and top with additional lettuce. Enclose sides and roll up, finishing seam side down.