IngridH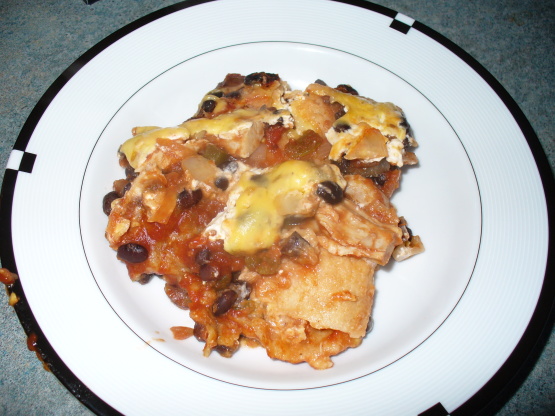 This is a great casserole that freezes and reheats well.

This was really tasty! I didn't get to the freezer with it this time, but will next time. The only problem I had was the consistency of the corn tortillas. They seemed to almost disappear in the liquid. But the flavor was yum! Next time I will either use flour tortillas or a double layer of the corn ones. But definately a keeper! Thanks!.....Gina :)
In a saucepan, cook onion and garlic in olive oil until tender.
Stir in frozen chicken, black beans and salsa.
If freezing, cool onion and garlic mixture before adding frozen chicken.
In 2 quart glass baking dish, pour taco sauce onto bottom.
Lay four corn tortillas over sauce. Top with half of chicken mixture. Spoon on half of sour cream. Sprinkle with half of cheese.
Top with remaining tortillas, chicken mixture, sour cream and cheese. Cover with foil.
You can wrap the casserole well and freeze up to 3 months or cook now.
If cooking now, bake at 350 degrees for 25-35 minutes until bubbly. Uncover and bake 5-10 minutes longer until cheese is melted.
If frozen, thaw casserole overnight in refrigerator, then bake covered at 350 degrees for 35-45 minutes until bubbly; uncover and bake 5-10 minutes longer until cheese melts.