Santa Fe Chicken-Black Bean Salad
Prep 30 mins
Cook 20 mins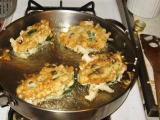 Want a side dish to take to a covered-dish event that will generate some smiles raise some eyebrows? Try this one and then stand by for the sneaky heat and the compliments of your friends. The original recipe came from "Cooking Light" prior to my minor tweaking. Also, this dish is clearly for the health-conscious eater.
Directions
Soak the chopped dried tomatoes in the lime juice for an hour or so.
Grill the chicken breasts over charcoal or on a gas grill until they are browned on the outside but still juicy in the center and then, cut into strips, about pencil-sized in diameter and 1-2 inches long.
Carefully toss all ingredients in a non-metallic bowl, including the lime juice and tomatoes.
Cover and refrigerate for at least two hours prior to serving.
Most Helpful
Easy, easy! And a delicious addition to the lunch rotation. I cooked my chicken by roasting it seasoned with a little salt and pepper and olive oil, otherwise followed recipe exactly. DH and I loved the flavors in this recipe.

Really good salad; I made this for lunch (omitted the chicken; too lazy) and used canned corn & fresh tomatoes. Fresh & healthy-tasting!