2Bleu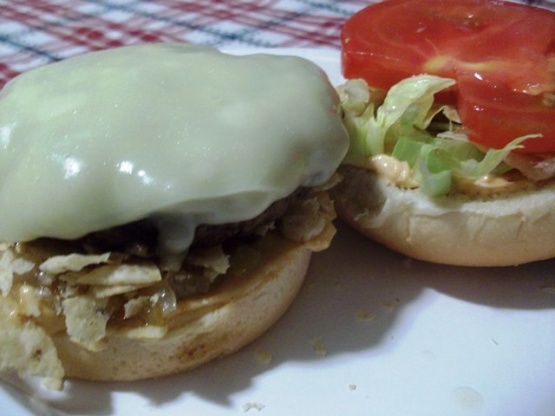 This was made as a demonstration for the 25th Anniversary at our local Sam's Club this weekend. I have not made them yet, but tried the ones they made and it was wonderful!! Will definitely be making when it warms up and we can BBQ and picnic outside...

Yum! After all of the parts are assembled these go together quickly. I was almost afraid of using the full 3 T of grill spices (I was using montreal) and 1/2 cup of jalapenos (I seeded them), but plunged ahead anyway. The patties ARE spicy, but not over the top hot. the patties are very generous servings. I used prepared tortilla strips from the salad aisle rather than chips and served with Sweet Potato Fries #478530 by threeovens. Thank you for a terrific meal!
Southwestern Mayonnaise: Mix 1/2 cup mayonnaise and 2 Tbs taco seasoning.
Caramelized Onions: Heat oil and butter over medium heat; add onions stirring constantly until soften approximately 3-5 minutes. Add sugar and continue stirring and cook until onions start browning; approx 15-20 minutes.
Combine ground beef and jalapeños and shape into 4 patties and then sprinkle with grill seasoning.
Grill burgers for 10 minutes and flip half way through. During the last minute place a slice of provolone on each patty.
Assemble burger: Spread each bottom bun with 2 Tbs mayonnaise and caramelized onions. Sprinkle with crushed tortilla chips and put burger patty on top. Add guacamole, lettuce and tomato slices to top bun.