Diana Yen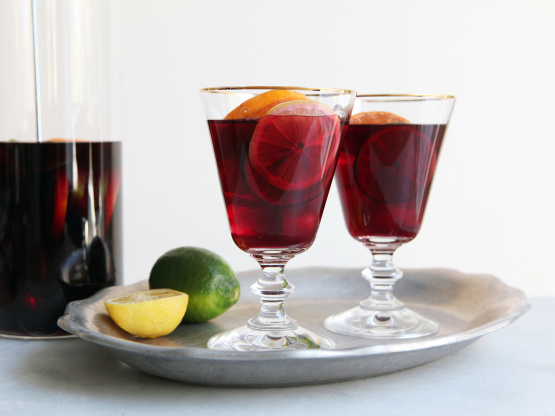 We love this Sangria and I hope you enjoy it, too! I found this recipe in the September, 2001 issue of Bon Appetit. It comes from the Malaga Tapas & Bar in Austin, TX.Prep time includes standing time.

Top Review by Nelly
This is a great recipe, it is virtually the same as the one given to us about ten years ago by a friend living in Tenerife and which we have used every summer since. It looks better the way you do it, though.
Stir wine, soda and orange juice, 8 lime slices, 8 lemon slices, orange slices, brandy, sugar, Cointreau, grenadine, lemon juice and lime juice in a large pitcher to combine.
Let stand 30 minutes.
Fill Fill 8 large wineglasses with ice cubes.
Divide sangria among glasses.
Garnish each with remaining lime and lemon slices and serve.