Sandy D'amato's Tuna Noodle Casserole
PaulaG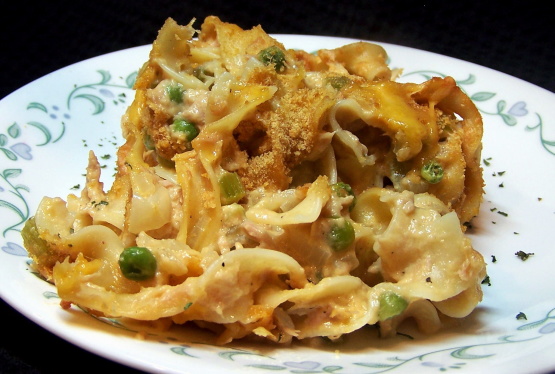 Sandy is the chef owner of Sanford Restaurant and has a food column in our local paper. This is very good. No cream of anything soup in here!

This was the best tuna casserole I've ever tasted. I loved the olives, and was surprized that the mustard wasn't overpowering, it was the perfect amount. I did add a little garlic and diced fresh mushrooms, as well as a tsp of grated lemon zest. This is my new favorite casserole.
Cook noodles, then drain and cool. Set aside.
Place medium sauce pot over medium heat. Add butter and, when melted, add onion and celery. Sweat 4 minutes.
Add flour and cook, stirring, 1 to 2 minutes - do not brown.
Add bay leaf, dry mustard, milk and shipping cream and bring to a boil while whipping.
Add Worcestershire sauce, salt pepper, and hot pepper sauce and simmer 2 minutes.
Add the grainy mustard, peas and cheese and remove from heat. Set aside.
Preheat oven to 350°F.
Toss reserved noodles with tuna.
Add lemon juice, dill, olives and the reserved sauce.
Place in a 9x9-inch or 11x7-inch baking dish and sprinkle with topping. Bake in preheated oven 25 to 30 minutes until hot, bubbly and crisp on top.
TOPPING: Combine all ingredients and mix well.