Ashley Cuoco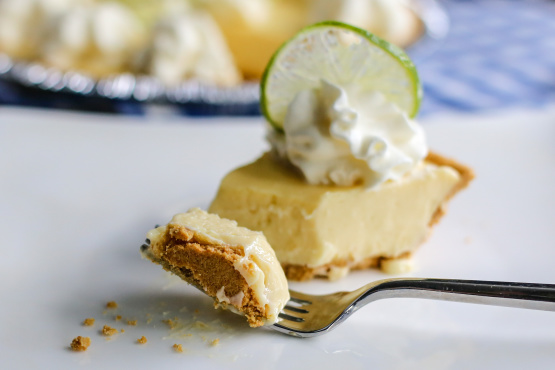 I saw this in the Food section of the Cincinnati Enquirer October 30 2002 Pg E3. By Chef Sandra Wilson. I really like Key Lime Pie and until this recipe have never found one that satisfied me.

Excellent Pie! Wikipedia Information on Key Lime Pie.(10min. cooking time) During mixing, a reaction between the condensed milk and the acidic lime juice occurs which causes the filling to thicken on its own without requiring baking. Many early recipes for key lime pie did not instruct the cook to ever bake the pie, relying on this chemical reaction (called souring) to produce the proper consistency of the filling. Today, in the interest of safety due to consumption of raw eggs, pies of this nature are usually baked for a short time. The baking also thickens the texture more than the reaction alone.
Preheat oven to 350 degrees.
Beat softened cream cheese until creamy.
Add sweetened condensed milk and beat to incorporate.
Add egg yolks and beat well.
Add lime juice and beat till combined.
Pour mixture into pie crust and spread with spatula until evenly distributed.
Place on cookie sheet and then into the oven and bake for 10 min.
until the filling begins to set.
Remove from oven and allow to cool on rack at room temp.
Then place in the refrigerator for at least an hour.
Two works better.
Cut into 8 slices and serve with a generous helping of whipped cream.