diner524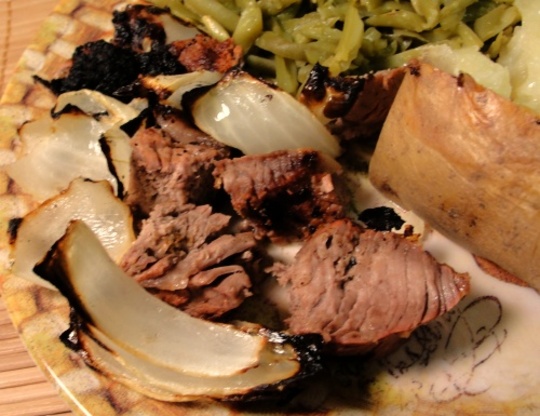 Saw this on Money Saving Meals awhile back! DH and I thought it sounded great! Posting here for safekeeping! You will also need wooden skewers for this recipe make sure you soak them in water before using!
This was wonderful, although I did sub sirloin steak. I marinated the whole steak for about 3 hours. I was worried it would be too spicy for us, but it was just very flavorful!! I love grilled onions with my meat, so probably added a bit more of them. I grilled the steak whole and put the onions on a skewer, was too lazy, lol!!! Then when it was medium-well I cut it up into kabob size pieces and served with the onions. If I had used the round steaks, definitely would have marinaded them for 24 hours. Thanks for sharing a great new kabob recipe. Made for Newest Tag Game.
In a large bowl whisk together canola oil, garlic, yogurt, cumin, salt, pepper and hot sauce. Reserve half the marinade, in a covered bowl, and refrigerate. Add beef cubes to remaining marinade, cover and refrigerate for anywhere from 30 minutes to overnight.
Preheat grill pan or outdoor grill to medium high heat. Be sure to oil the grill surface before grilling the kebabs.
Thread beef cubes and onion pieces onto skewers, alternating 3 pieces of beef and onion per skewer. Set aside extra beef cubes for Round 2 recipe. Place skewers on the grill pan and cook 3 to 4 minutes on each side for medium-rare.