PaulaG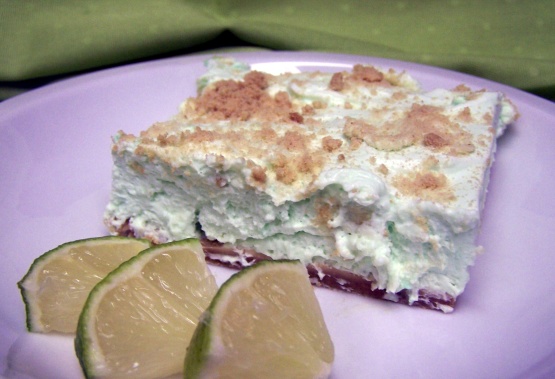 This is from my dogs groomer. It is so light and refreshing with just a subtle lime flavor. It goes great after a big holiday meal. Cook time below is refrigerator time.

Delicious cream cheesecake! Light flavor and pleasing texture. We are only two here now, so I cut the recipe in half and made an 8X8 pan. I am not a very patient person, so I dissolved the jello in 3/4 cup of boiling water and then added ice cubes to the one cup mark, stirring until they were mostly melted and then removing the remaining ice. Then about 5 minutes in the frig and it was ready to use in the cheesecake. I was thinking this would be good with lemon flavored gelatin, and my husband suggested cherry flavored gelatin for a cherry cheesecake.
Blend the jello and boiling water, stirring until dissolved.
Let stand until slightly thickened.
Reserve 2 tablespoons of graham cracker crumbs for use later.
Now combine remaining crumbs, powdered sugar, and melted butter.
Press evenly into a 13x9-inch pan.
Cream the cream cheese, sugar, and vanilla till fluffy.
Blend in thickened jello mixture.
Fold in whipped cream to the cream cheese mixture.
Pour cream cheese mixture over graham cracker crust in pan.
Sprinkle with the reserved 2 Tablespoons of graham cracker crumbs.
Refrigerate at least 4 hours before serving.