katew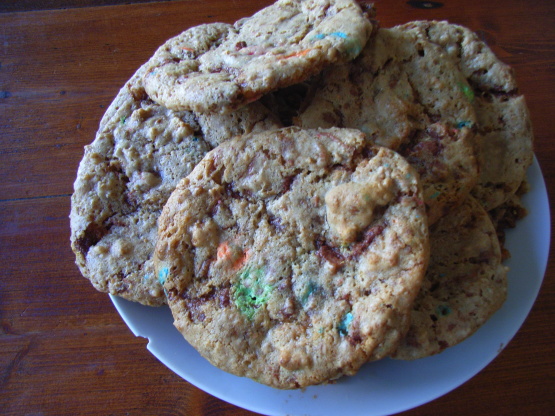 A friend of mine received this recipe and a jar containing all of the dry ingredients as a gift, and we made it together. It was a great gift - delicious and easy to make with the mix. So if you want to use this as a mix, just put all of the ingredients except for the butter and egg in layers in a jar and give it with the recipe. Otherwise, you can just enjoy them at home.

Wonderfully flavored, and I loved the crunch/texture of the rice cereal and oats. I doubled this recipe to take to a study session and everyone loved them! Next time I would decrease the amount of M&Ms and chocolate chips (didn't think I would ever say that) because they kinda took over the dough and made it difficult to roll/bake in one piece. Otherwise, delightful recipe!
Melt butter and stir in egg.
Add dry ingredients and mix well.
Form 1" balls and place 2" apart on greased cookie sheets.
Bake at 350F for 10-12 minutes.