katew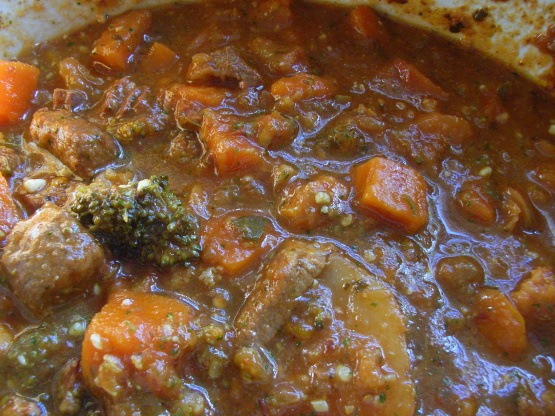 Yams or sweet potatoes and other tropical root vegetables distinguish this stew from others. Though this recipe calls for beef, boneless pork is also authentic. Sancocho is often accompanied by "casabe" (cassava cakes), yucca meal cakes, or "panecicos" (yucca meal rolls). Corn bread is a good substitute for these. This recipe is from Panama, and comes from Better Homes and Gardens. Our family really enjoyed this.

Top Review by katew
I never cook meat but decided for ZWT 7 to give this a go. I used diced beef. I have never seen a plantain in Australia so could not use it and used broccoli as a sub for green beans. I did enjoy it immensely. The meat component was a little dry but that may well be the fault of the "vegetarian" cook. The overall result though was really tasty.
In a Dutch oven, brown the beef, half at a time, in hot oil; remove frm the pan, reserving the drippings.
To the drippings, add the onion and garlic; cook until tender but do not brown. Return the meat to the pan. Add 4 cups of water. Bring to a boil; reduce heat. Cover and simmer for 1 hour.
Stir in the chorizo or Italian sausage, squash, yam, plantain, green pepper, green beans, undrained corn, undrained tomatoes, chili powder, coriander, and 1 tsp salt. Cover and simmer for 15 to 20 minutes or until the meat and vegetables are tender. Skim off the fat.