San Marzano Perfect Marinara Sauce Recipe
chefRD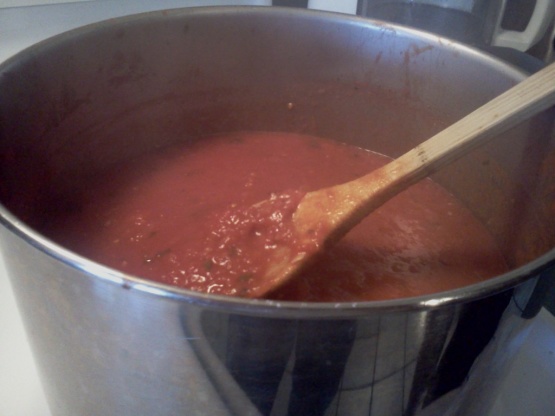 Instructions are for a Big Batch of Marinara Sauce utilizing a huge can of Nina San Marzano Tomatoes 106 ounces which you can purchase for less than four dollars at Costco. The price of yearly membership is worth it just to be able to buy these cans of tomatoes. When you open up this can look at how beautifully bright red the tomatoes are. Also, note that there is a nice beautiful tomato sauce not a watered down version like you find in most canned tomatoes. After I tried the San Marzano tomatoes I couldn't go back to regular canned tomatoes. This is a very flavorful simple marinara sauce. I usually make up a batch when I'm making lasagna and then the extra sauce goes into the freezer to use later. Don't rate this recipe negatively if you choose to make it with other types of tomatoes rather than San Marzano. I have received so many complements on my sauce. Try this you won't be sorry. Credit for this recipe goes to: pasta-recipes-by-italians.com

Great Recipe! I used Rosa's San Marzano Sauce and omitted the salt since I have to limit my sodium intake and added a pound of lean ground beef as well as honey to sweeten it. I cooked it for 90 minutes on the lowest heat and it tastes good! I will never buy spaghetti sauce/marinara sauce again.
Open the can of Nina San Marzano tomatoes, being very careful since the large size of the can makes it awkward. The lid is very sharp be careful not to cut yourself. Pour the tomatoes into a large pot. Mash them a few times with your potato masher and set aside.Slice your garlic with a garlic slicer or use a sharp paring knife to cut very thin slices.
Now you'll need a fairly large saute pan. Heat about ¼ cup of the olive oil in the pan on medium and then add the sliced garlic. Saute only until golden brown. (Be careful not to burn it, there is nothing worse than burnt garlic. Watch your heat if it's too hot it can burn the garlic almost instantly. If you do burn the garlic you might as well start all over again.) Then add the crushed garlic, splash with some white wine if desired and saute for just a little longer.
Remove the saute pan from the heat and pour the garlic mixture into the large pot with the tomatoes. Pour in the remaining olive oil, salt and simmer uncovered for approximately 60 to 90 minutes. When the sauce has reduced to the thickness you like, remove from heat and add the freshly cut basil and stir.
There is a common misconception that you should cook the family recipe for pasta sauce "all day". Not this marinara sauce recipe!