San Francisco Vegetable Soup over Angel Hair Pasta
Kree6528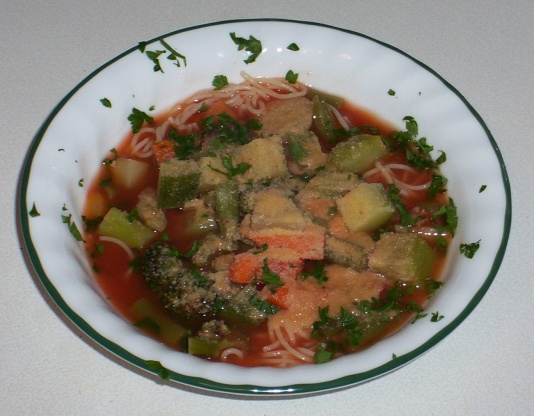 I found this recipe in a Pillbury Bake-Off Cookbook about 10 years ago. It's delicious, fairly quick to make, is low-cal and party perfect.

Back in 1991 my Mother in Law gave this recipe to me while we were visiting in Naples Florida. It was clipped from a newspaper recipe section and it was in my recipe file and then I lost it! Imagine my surprise when I typed in the name of the recipe and it was online! I am so thankful as it was an absolute favorite of my husband and I didn't want to mess it up by trying to guess the recipe
10

ounces angel hair pasta, broken in half (capellini)

2

(14 ounce) cans beef broth (ready to serve)

1

(16 ounce) packagesan francisco style frozen mixed vegetables, broccoli carrots water chestnuts and red peppers (I use Green Giant American Mixtures)

1

cup frozen cut green beans (Green Giant - from 16oz. bag)

1

cup chopped summer squash

2

teaspoons dried basil leaves (or 2 T chopped fresh basil)
1⁄4 teaspoon crushed red pepper flakes
1⁄4 teaspoon garlic salt

1

(14 1/2 ounce) can whole tomatoes, undrained,pureed

2

tablespoons grated parmesan cheese

1

tablespoon chopped fresh parsley (optional)
Combine, in a large sauce pan, the beef broth, all the frozen and fresh vegetables, and spices through the garlic salt.
Bring to a boil, reduce heat and simmer covered for about 7-8 minutes.
Add the pureed tomatoes and cook till heated through.
Cook the pasta while the soup is heating, according to the package directions.
Place pasta in 6 soup bowls, dividing evenly, and ladle the soup mixture over it.
Sprinkle the cheese and parsley on top of the soup.