San Francisco Seafood Quiche
Funliven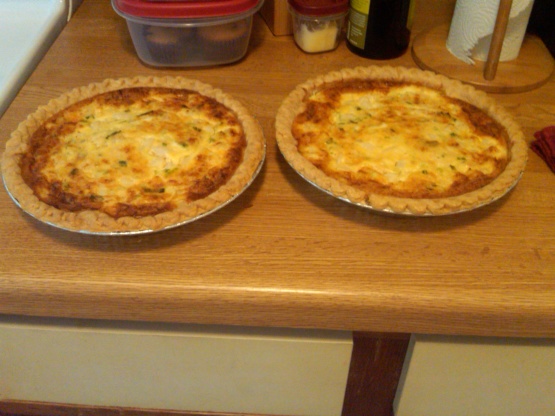 If you like seafood, this is the quiche for you! Serve it with a mixed fruit salad or a green salad and a glass of good white wine! Originally from an old cookbook of mine. I especially like the fact that it makes two quiches- one to eat and one to freeze for later!

I have always wanted to make quiche, but was afraid to try. Then, a friend asked me to make it for Saturday brunch and I did. I can never say no when someone asks me to cook:) This recipe seemed perfect and it was. I added scallops, extra shrimp, an extra egg, used lump crab meat,a bit more wine because of the extra ingredients. Oh, I used gruyere instead of swiss. My friend was very pleased with the outcome and so was I. If you love quiche and seafood then this is certainly a recipe to try.
2

unbaked pie shells

1

(6 ounce) packagefrozen king crab meat, thawed and drained
1 1⁄2 cups cooked shrimp, chopped

8

ounces swiss cheese, shredded
1⁄2 cup celery, finely diced
1⁄2 cup green onion, thinly sliced, including green part

1

cup mayonnaise

2

tablespoons flour

1

cup dry white wine

4

eggs, slightly beaten
Combine crabmeat,shrimp,cheese,green onions, and celery.
In another bowl, combine mayonnaise,flour,wine, and eggs.
Mix all ingredients together well, and divide the mixture between the two pie shells.
Bake pies in a 350°F preheated oven for 35-40 minutes or until a knife inserted into the middle comes out clean.
Quiches may be frozen before baking; bake frozen quiche in 350°Foven for 50 minutes.
Leftover quiche may be heated in a 300°F oven for 15 minutes.