Sam's Sloppy Joes (Crock Pot)
MsSally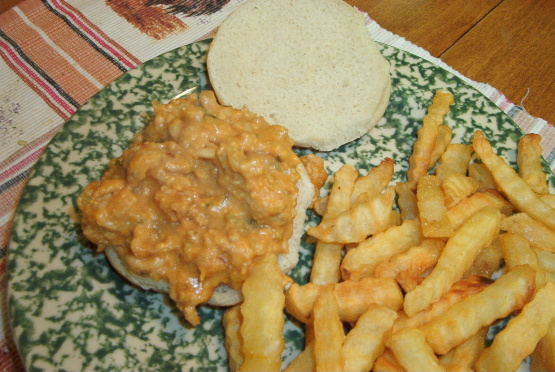 I thought the base of this recipe came from Zaar, but turns out it didn't. I made the base recipe with a few tweaks and came up with this. Very rich and in no way low fat. For sure a kid pleaser as my 5 yr old keeps asking for more "floppy joes" LOL I use 4 packets of Arby's Sauce in this recipe, but Zaar's editor won't letme enter that, so it's entered as BBQ sauce.

For the most part I made this as given, but since 'relish' for me brings to mind sweet pickle relish, I decided to use a homemade chutney instead & that worked out great! Another time I might just substitute shredded chicken breast for the hamburger, since I always have that in the freezer! Thanks for sharing the recipe! [Tagged & made in Please Review My Recipe]
Fry hamburger until almost cooked through.
Place in Crock Pot with onion.
Add mustard, ketchup, relish and BBQ sauce/Arby's Sauce.
Cut Velveeta into cubes.
Mix all well.
Cook on low, 3-4 hours.