Sam's Breakfast Sammy/Sandwiches
teresas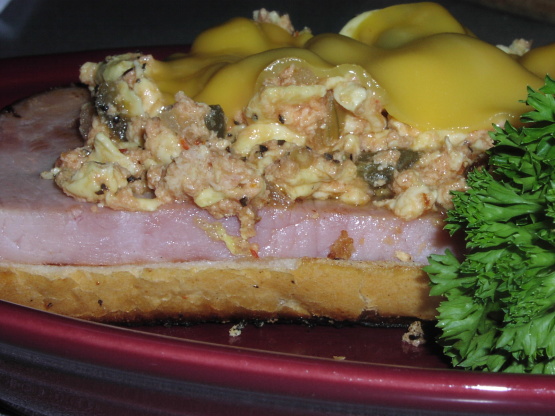 Hi, I'm AshK's son, and I wanted to try to make a breakfast sandwich. It is a little Mexican sandwich that I think goes great with a nice cold cup of milk.

A very tasty sandwich for breakfast! I used hot salsa and the egg substitute. So I had a nice spicy sandwich. I cut the recipe in half (cuz there's a lot) and served it with coffee. Yum. My tummy is nice and warm now. My tummy thanks you Sam for creating this recipe. :)
Heat oil in skillet.
Add eggs to pan then pour salsa in the center of the eggs.
Stir with spatula to scramble eggs and salsa.
Remove mixture from pan and keep warm.
Return pan to heat and place bread in pan, buttered side down.
Place ham slices in pan; brown on both sides.
Allow bread to brown while cooking ham.
To assemble, divide eggs, ham, and cheese evenly on top of bread.
Serve open face or as sandwich (depending on how big your mouth is).