Parsley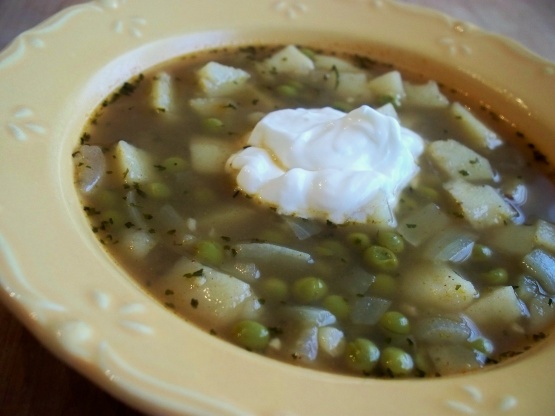 This soup was the product of an insatiable craving for samosas and no Indian restaurant nearby. Making Indian appetizers is way too much work and the overpowering stench of a deep fryer is enough to permeate your home for days. So, I created this soup which tastes just like a samosa - and it's low fat too! This was quick and easy to prepare and quite good. It tasted very similar to a nice spicy samosa and was complemented nicely by storebought nan bread.

Very nice. Easy, fairly mellow flavors, and healthy. My only complaint is that it was a little thin; I stupidly stirred yoghurt in beforehand which didn't help the texture.
Heat oil in a large saucepan and add the potatoes, garlic and onion.
Saute over a low heat for 5 minutes.
Add the cayenne pepper, cumin, garam masala and cilantro. Stir well.
Add the vegetable stock and bring mixture to a boil.
Cover the pan, reduce heat and simmer for 20 minutes.
Add peas and continue to cook the soup for another 5 minutes.
Ladle into four individual serving bowls and spoon a tablespoon of yogurt on top of each. Enjoy.