Sammie's Bacon Tomato Pasta
Lainey39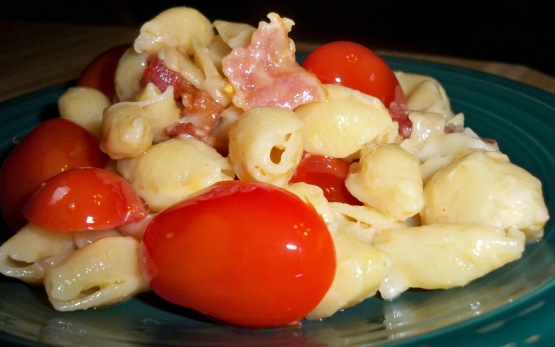 Something my DD created while trying to figure out what to have for supper. We had some small tomatoes to use up and some thick sliced bacon. The leftovers work well for a cold pasta salad too. Just add some Miracle Whip and more chunks of cheese.

This was terrific, Jess! We enjoyed this immensely and it was a breeze to put together~and gone so fast too! I halved this too, but we could of eaten more! I used some fresh shell pasta, and the taste of the bacon/tomatoes, plus the cheese was terrific! I might add some green onion next time, and maybe a pinch of red peppers flakes, but this is so good, you won't even want to change it!. Loved it! Thanks, Jess! Made for *Everyday is a Holiday* February 2009.
Boil pasta in salted water to taste. We like al dente. Drain. Add butter and stir to keep pasta from sticking.
Cut tomatoes in half and gently squeeze out the seeds.
Cook bacon to half crisp; drain off grease. Crumble bacon into small pieces. Add tomatoes, bacon, and cheese to pasta. Stir in a small teaspoon of bacon grease.
Stir to mix well, the cheese will melt naturally. Salt & Pepper to taste.