Sambossa (Ethiopian Appetizer)
K9 Owned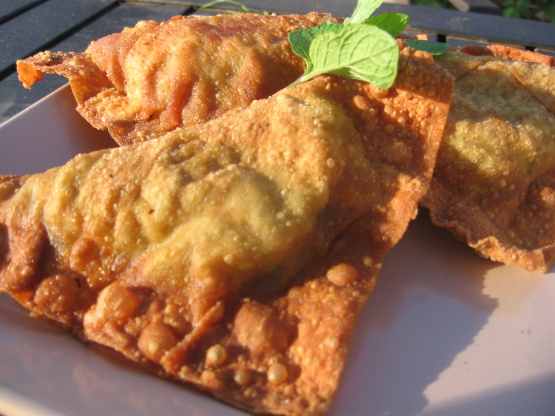 This is a wonderful little Ethiopian snack that is quite similar to a samosa. You skip making the dough by using wonton wrappers. Enjoy!

These are outstanding! I made as written, using lamb rather than beef, and the spice level was perfect for me. A little spicy, but nothing that would cause major heartburn. Cooking the filling took quite a bit longer than stated in the directions, but it was well worth the time spent. The filling was very smooth, not chunky like ground meat will get when you brown it separately, than add other ingredients. I think these would be good with a fruity/spicy dipping sauce, although they are wonderful just as they are- right out of the hot oil. I pan fried these on the stove, but next time I may get out the deep fryer, where I have better control of the heat. DO NOT walk away from these while they are frying- they will burn in the blink of an eye. Made for ZWT7- Emerald City
Combine all filling ingredients in heavy sauce pan.
Bring to a boil and stir to keep smooth.
Reduce heat to medium and let mixture simmer uncovered.
Correct flavor for spices and salt balance.
As water simmers away, stir often to prevent mixture from sticking, especially during final stages.
Cook until all liquid evaporates.
If ground meat has a lot of fat, drain off at this point.
Let mixture cool slightly before stuffing.
Fill won ton wrappers with 1 to 2 tsp of filling. Moisten and press the edges together in a triangle shape.
Fry the Sanbossas, several at a time, until golden brown on both sides. Place the golden brown Sambossas on paper towel to rid of excess oil. Serve hot or cold with or without chutney.