gailanng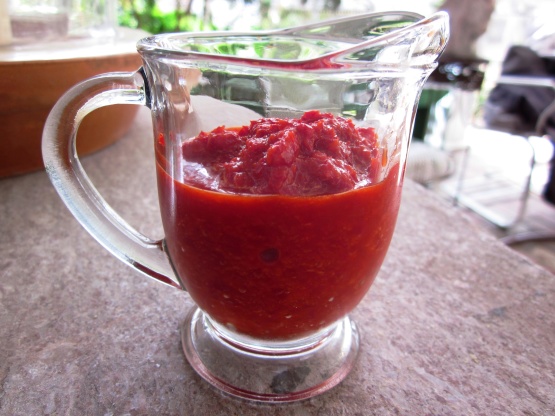 Makes a hot and fiery chile sauce that can be used both as a condiment and in cooking.

Top Review by Bergy
Sue L this is as good as the Dutch brand (I can't remember their name but they make the whole line of spices - NasiGoreng etc etc) Of course I used hot chilies and some hot pepper flakes. The first thing I tested it on was plain noodles - buttered and just a touch of Sambal Oelek.. I am freezing some of this batch in teaspoon amounts for future use. This is so reasonable to make versus $2.95 for a small jar - Thanks Sue I'm in business!!!!
4

ounces fresh red chilies, chopped

2

tablespoons rice wine vinegar

1

teaspoon vegan sugar (or granulated sugar; to taste)

1

teaspoon salt (to taste)
Place ingredients into a blender and pulse until chiles are finely chopped but not pureed.
Adjust seasonings to taste.
Store in a sealed container under refrigeration until needed.