Debbwl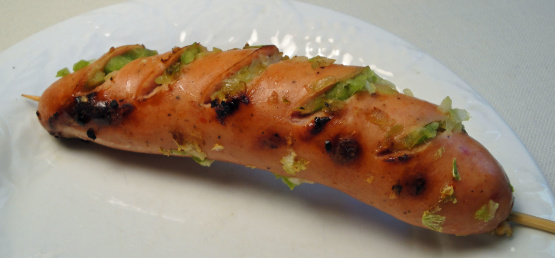 This is a recipe from Steven Raichlen's "The Barbecue Bible" Here is what he states in the intro: This simple recipe is the perfect symbol of Brazil's sensuality and scintillating spirit. Grilled sausages are, of course, common currency among the world's street foods, but it's only in Brazil that street vendors take the time to make tiny slits in the sausages, fill them with minutely diced onions and bell peppers, and lovingly baste them with olive oil as they cook. The "grill" of the vendor who gave me his version was the charcoal-filled hubcap of an old car. Virtually any type of cooked sausage could be prepared this way. I've called for chorizos, but kielbasa, knockwurst, or even hot dogs would work well, too.

Grilling in the winter here for me can be common, and from the photo of this is why I tagged this. I did grill these with some hickory chips, which added more flavor, not that the recipe had great flavors which it did. I went down the road, about a mile to the butcher store here that makes fresh meats, and sausages and bought 8 cajon sausages. I made the recipe as written, though I did use green peppers. Loved these and the idea that they can be eaten like corn dogs. Also liked the ingredients inside the sausage. Tagged and made for Holiday Tag. This would be a nice addition to any outside cookout. Tagged and made for Holiday Tag.
4

chorizo sausages, cooked (store-bought or other cooked sausages, each 1 inch thick and 4 to 5 inches long)
1⁄2 small onion, minced very fine
1⁄2 medium red bell pepper, stemmed, seeded and minced very fine (or green)

2

garlic cloves, minced

2

tablespoons olive oil
Preheat the grill to medium-high.
Push a skewer lengthwise through each sausage. Make a series of diagonal parallel slits, 1/4 inch deep and 1/2 inch apart in one side of each sausage. Turn the sausage over and make a similar set of slits going the opposite direction.
Combine the onion, pepper, and garlic in a small bowl, then stuff some of the mixture into the slits in the sausages.
When ready to cook, oil the grill grate. Arrange the sausages on the hot grate and grill, turning with tongs, until lightly browned on all sides and heated through, turning as necessary, 5 to 8 minutes in all. As the sausages cook, drizzle oil over the slits.
Serve the sausages right on the skewers and eat them like Popsicles, with any remaining onion mixture.