Salty Dog Without the Bite
diner524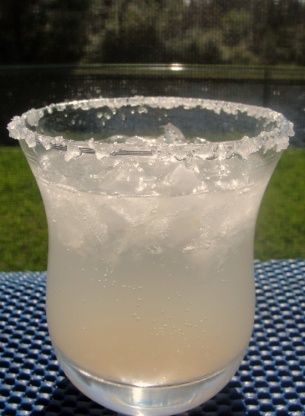 A non alcoholic version of the salty dog usually containing vodka or gin. "Mansfield News Journal," 18th July 1952 "George [Jessel], was fortifying himself against Republicans with a strange potion out of a champagne glass. He let me have a taste, and after bystanders had turned the fire extinguishers on me and successfully resorted to resuscitation, he explained, that this drink was a Salty Dog." "It is a little something of my own invention," he said, "Just half fresh grapefruit juice, half vodka and a dash of salt, and you think any Democrat can win." Enjoy!
Yummy!!! Need to be a fan of grapefruit/tart citrus for this drink, which I am. I don't generally keep club soda on hand so I did substitute Sprite Zero, but other wise followed the recipe, which may have made a little sweeter, but I know I would like it with the soda, as I eat a half of a grapefruit almost every morning. I used fresh grapefruit juice, so not so pink in color. I loved the saltiness to the drink. Thanks for sharing. Made for PRMR Tag Game.
5

ounces cold grapefruit juice

2

ounces club soda (optional)
crushed ice (optional)
Wet rim of glass with some water(or grapefruit juice) on a plate or shallow dish.
Pour chilled grapefuit juice into glass carefully, so as not to disturb the salted rim. Now pour in club soda if using. Add in a little crushed ice if desired.
Serve and enjoy.