luvmybge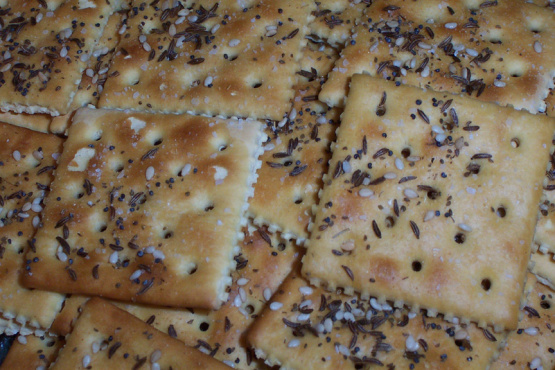 Why pay a high price for seasoned crackers when you can spend .89 cents for a big box of saltines and put your own toppings on them?

Top Review by BethH
The first batch I made most of the toppings fell off. I let the butter cool a bit and stirred in some garlic. The next batch with the thickened butter turned out much better. My crackers were 1.09 in the bargain bin at the bread store. When I tasted them out of the box I thought they tasted a little stale. They were still awesome made this way!!!!
Preheat oven to 300°F
Line a cookie sheet with parchment paper and top with saltines.
Brush with melted butter.
Top with your choice of seasonings (I use them all).
Bake for about 10 minutes or until lightly browned.
Cool on plate.
Serve with your favorite cheese or dip.
Note: Don't be afraid to really load them up because some of the topping is going to fall off.