CoffeeB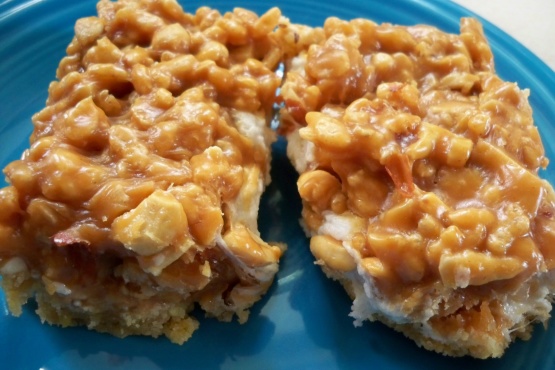 These are reminiscent of a popular candy bar and are sure to be a family favorite.

thank you sharon for posting this recipe , it was in mr pickys moms cook book . and at least you have instructions . ive put on 30 of her recipes and my eyes are crossing lol she is an awesome cook and her recipes are different
Heat oven to 350°F.
In a large bowl, combine all crust ingredients except marshmallows and stir at low speed until crumbly.
Press firmly in bottom of ungreased 13x9-inch pan.
Bake at 350°F for 12 to 15 minutes or until light golden brown.
Remove from oven.
Immediately sprinkle with marshmallows.
Return to oven and bake an additional 1 to 2 minutes or until marshmallows just begin to puff.
Cool while preparing topping.
In a large saucepan, combine all topping ingredients except cereal and peanuts; heat just until chips are melted and mixture is smooth, stirring constantly.
Remove from heat; stir in cereal and peanuts.
Immediately spoon warm topping over marshmallows; spread to cover.
Refrigerate until firm.
Cut into bars.