Salted Chocolate Chip Cookies
alligirl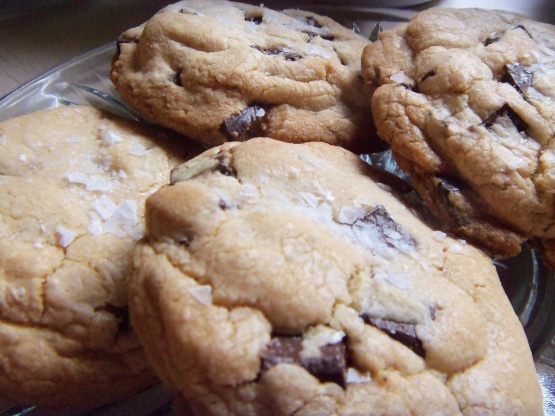 I know, another chocolate chip cookie recipe. These are really wonderful though. They are not too sweet and the salt complements the chocolate beautifully. It is important that the flours and granulated sugar be mesured by weight. I use Murray River Australian Flake Salt for sprinkling on top of the cookies.

I have been looking forward to these cookies for a long time! I had some sea salt flakes from Cyprus, that I've been itching to use. These cookies are the perfect medium for the salt...I reduced the recipe by half and used dark chocolate (62%) chunks. These were easily the biggest cookies I've ever made, but oh so good! (I used a 1/4 c. measuring cup to portion them out.) I had one for lunch....that was plenty! ;-) Make these...I dare ya! Thanks so much for sharing this recipe, muddwife!
Sift flours, baking soda, baking powder and salt into a bowl. Set aside.
Using a mixer fitted with a paddle attatchment, cream butter and sugars together until light and fluffy, 5 minutes. Add eggs, one at a time, mixing well after each addition. Stir in vanilla. Reduce speed to low, add dry ingredients and mix until just combined. Check to make sure there is no flour remaining in the bottom of the bowl. Gently incorperate chocolate chips. Press plastic wrap against dough and chill 24-36 hours, up to 72 hours.
Preheat oven to 350 degrees. Use a non-stick baking sheet or line a sheet with parchment paper.
Scoop 2 ounce mounds of dough onto the baking sheet about 2 inches apart. Sprinkle lightly with salt. Bake until golden brown but still soft, 18-20 minutes. Let cookies rest 5 minutes then remove to a wire rack. Repeat with remaining dough or, reserve dough for baking batches the next day.
Serve warm with lots of milk and napkins.