Salted Caramel Chocolate Torte
Irmgard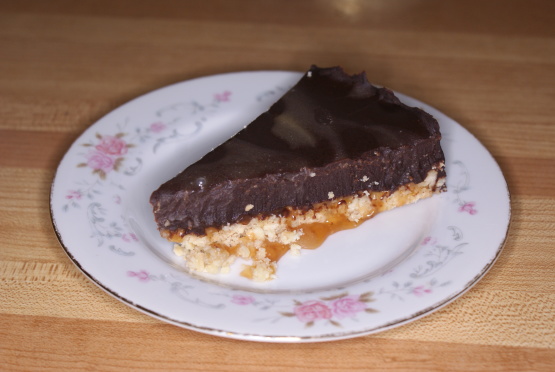 Salted caramels are all the rage and are actually quite yummy. President's Choice sells them in Canada but unfortunately, I was unable to get any to decorate the top of this cake. It didn't really matter because it was still decadently delicious.
175

g digestive biscuits, crushed

85

g butter, melted

397

g caramel sauce (I used butterscotch ice cream topping, the best substitute I could find!)

1

teaspoon sea salt

300

g bittersweet chocolate, broken into chunks (Try to get 70% cocoa)

600

ml double cream

25

g icing sugar

2

teaspoons vanilla extract
chocolate-covered caramel candie, for garnish
Line the base of a deep, round 20 cm loose-bottomed cake tin with a circle of parchment paper. Line the sides with one long strip that comes just above the sides of the tin - staple or paper clip where the strip overlaps to hold it in place.
Stir the crushed digestive biscuits into the melted butter, then evenly press into the bottom of the tin.
Chill for 10 minutes.
Reserve 2 tablespoons of the caramel.
Stir the sea salt into the remainder and spoon into the centre of the biscuit base.
Gently spread so the base is evenly covered but a visible 1-2 cm border of biscuit remains around the edge.
Chill for 20 minutes while you make the chocolate layer.
Gently melt the chocolate in the top of a double boiler.
Stir 1 tablespoon of the cream into the reserved caramel, then cover and chill until ready to decorate.
Once the chocolate has melted, turn off the heat but leave the double boiler where it is, and gradually stir in the remaining cream until you have a smooth, shiny, thick chocolate sauce.
Sift in the icing sugar and stir in with the vanilla extract.
Lift off the heat and let the mixture cool for 10 minutes.
Ladle or pour the chocolate mixture around the edge of the torte first, so it fills the biscuit border, sealing the caramel in the centre.
Then ladle or pour in the rest and gently shake to smooth the surface.
Chill for at least 5 hours or up to 24 hours until firm.
Remove the torte from the tin, then carefully peel off the strip of paper and transfer to a serving plate.
Dot the chocolates on top.
Spoon the reserved caramel-cream mixture into a small food or freezer bag.
Snip off the tiniest tip of the corner to make a very small opening, then squiggle lines of caramel over the top.
Chill until ready to serve.
Scatter with a pinch or two of sea salt before serving, then thinly slice.