diner524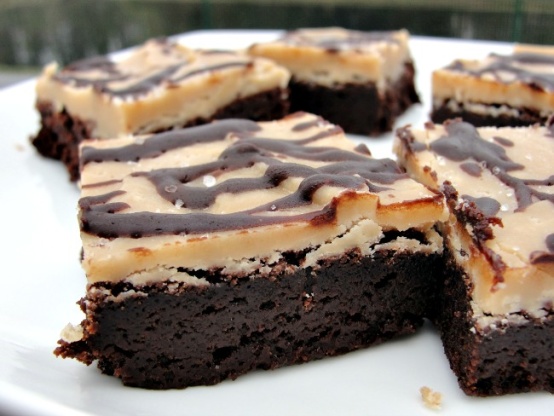 Rich in flavor, and a definate crowd pleaser.

Fabulous brownies, though that may seem a little 'under'-whelming, you must try these! I followed as directed, but the last step (melting the chocolate with the evap. milk) didn't really work for me - operator error, I'm sure. :-) And don't sprinkle the salt too early, as it will melt into everything else. Ha! DH and I are still enjoying them, but they'd be lovely for a sweets tray, or dinner with friend. I also got 16 (instead of 20) small brownies from my 9X9 glass dish; that is plenty big! Thanks for sharing a wonderful recipe, weekend cooker; I'm looking forward to making these again!
Preheat oven to 350 degrees.
To prepare brownies.
Weigh or lightly spoon flour into dry measuring cups, and level with a knife.
Combine the flour, and the next 4 ingredients (through baking powder) in a large bowl, stirring well with a whisk.
Combine 6 tablespoons butter, eggs, and 1 teaspoon vanilla extract.
Add this mixture to the flour mixture,stir to combine.
Scrape batter into a 9-inch square metal baking pan lightly coated with cooking spray.
Bake at 350 degrees for 19 minutes, or until a wooden pick inserted comes out with moist crumbs clinging.
Cool in pan on a wire rack.
TO PREPARE TOPPING:.
Melt 1/4 cup butter in a saucepan over medium heat.
Add brown sugar, 1 1/2 tablespoons milk, and cook 2 minutes.
Remove from heat, and add vanilla and powdered sugar, and stir with a whisk until smooth.
Spread mixture evenly over cooled brownies,let stand 20 minutes, or until set.
Combine remaining 2 tablespoons milk, and chocolate in a microwave-safe bowl, and microvave on high for 45 seconds, or until melted, stirring after 20 seconds.
Stir just until smooth, and drizzle over caramel.
Sprinkle with sea salt, let stand until set, and cut into 20 squares.