Salted Boiling Water - What Does It Mean?
gailanng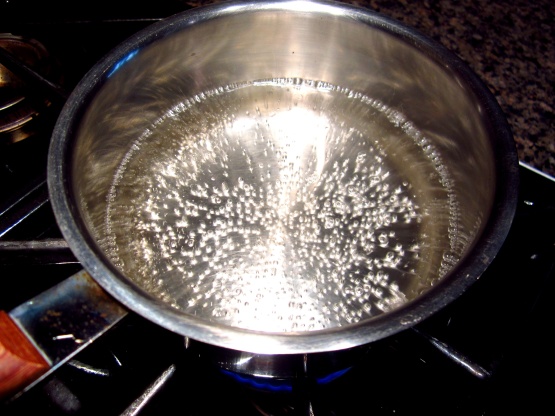 I found a recipe similar to this online today, and had the best hours of laughing at the reviews. It became even funnier when I called my hubby and told him about it, he reminded me of my little sister's first official dinner cooked for her mother-In-law. (A great story I will included on my ME page later.) My DH made me see a need in having this posted for new cooks, as not everyone grows up with a good teacher from the start, with that in mind, here is my improved version.

Top Review by Nif
I just can't give this any stars. I don't know what happened but it didn't turn out right at all! As soon as it came to a boil, the lid blew off, went right through my kitchen ceiling and landing on my bed. The heat of the lid started my bed on fire. I had all my tax receipts on my bed because I had been sorting through them. I had to call 911 and the firefighters marched right through my house with muddy boots on. My cats got out because they left the front door open and I haven't seen them since. It's going to take me days to clean up all the mess and the cost will be astronomical! I will never ever use a recipe that requires salted boiling water again. BEWARE!!!! This stuff can ruin your life! It should only be handled by professionals.
Measure water into a pan that has a tight fitting lid, cover and turn on high.
When water begins to boil - add salt, cover and return lid giving just a moment or two to return to a full rolling boil.
Proceed with whatever recipe you have that says cook in "boiling salted water".
Adjust water amounts according to amount of your recipe yield, keeping the water/salt ratio of 1 tsp salt to 1 cup water.
TIPS:.
Placing a lid on pan will help water to boil faster.
ALWAYS add salt AFTER the water is boiling to prevent "pitting" of your pans, which can ruin a pan forever.
NOTE:.
After reading my first review,.
I do want to explain I am NOT in ANYWAY picking fun at new cooks, everyone starts somewhere. The humor I found in the recipe listing at another site is the reviews so many people wrote in reply to reading the recipe. 736 reviews! Almost 90% are written in a good cooks humor. When I was done reading all I could handle, my sides ached, my cheeks were wet with tears of insane laughter, and I had called long distance to 2 sisters, making them listen! At the risk of being hit by the large Zaar spoon, I will just say the other recipe site starts with an E. (Please note: that is the only recipe I suggest for reading there! And 'Zaar is the ONLY www. site that I have a paid membership!) :).