Salt Grilled Chicken Thighs
Debbwl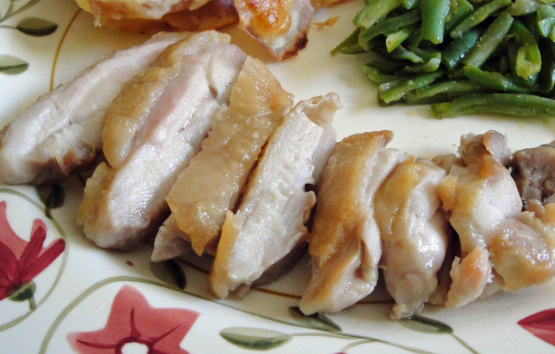 From Just Bento.com This is one of my favorite things to take for lunch! It's so simple, yet the salt brings out the wonderful flavor of the chicken, and crisping the skin in the pan makes it taste even better. I like to salt the chicken the night before, cover, and refrigerate overnight; then cook in the morning, although you could do the whole thing the night before.

Top Review by Debbwl
First-rate!! Wish I could give this ten stars! Outstanding flavor and oh so easy to make, could not get boneless skin on thighs so deboned my own which only took a few minutes and again was way easy. This will be made again and again, thanks for the great post.
Butterfly the chicken, to get an even thickness and ensure fast cooking.
Sprinkle both sides liberally with salt.
Let stand, chilled, for 1 hour, then pat off any excess moisture with a paper towel.
Heat a non stick (or cast iron) skillet over medium heat.
Add chicken, skin side down. Cook until skin is golden brown.
Turn over, and cook until chicken is cooked through.
Remove from pan and let rest for a few minutes, then slice into bite sized pieces.