FlyBD5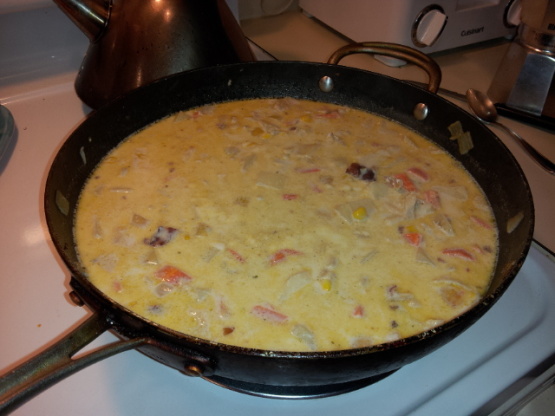 Salt cod is used for cooking in Scandinavian and Spanish cooking, but isn't very well known in the United States. Here's a tasty chowder to introduce it to the uninitiated.

I really enjoyed this chowder! I used creamed style corn in place of the niblets for a nice creamy corn taste and texture. I didn't add any salt using the salted cod and it was just like I like it.
Freshen salt cod by soaking it overnight in cold water to cover.
Drain, place in a stewing pot, and cover with fresh water.
Bring to simmer with low heat.
Check to see if the fish is still too salty - if so, drain, add fresh cold water, and bring to simmer again, and drain.
Fry salt pork in stewing pot until crisp; remove fried pork scraps and reserve for garnish.
Cook onion in pork fat until tender.
Add potatoes, carrots, water, salt, and pepper and cook covered for about ten minutes, or until vegetables are tender.
Add corn or hominy, heated milk, and freshened salt cod.
Bring chowder to a simmering temperature, but do not boil.
Garnish with the pork scraps.
Serve hot, with freshly baked home made bread or rolls and butter.