Salt and Pepper Prawns with Lime and Chilli Dipping Sauce
Peter J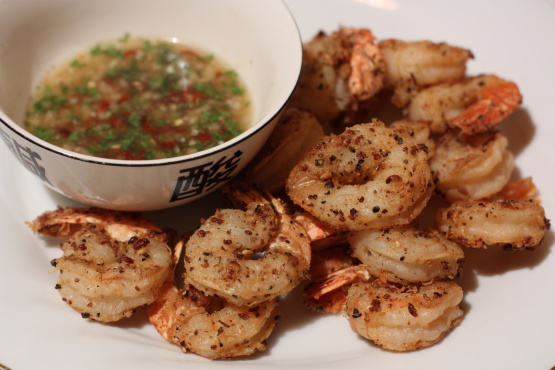 I've used this salt and pepper mix on fish, calamari and even chicken. It's yummy.

Wow! The pepper mix really carried through the frying and formed a great crust. The dipping sauce was wonderful as well. Only change I made was I didn't have fresh limes so used a little less bottled lime juice because it always seems to be a fraction stronger.
For dipping sauce, combine sugar and vinegar in a small frying pan and stir over a low heat until sugar dissolves.
Cool, then add reamaining sauce ingredients.
Season to taste with salt and pepper.
Dry roast pepper and peppercorns in a small pan over low medium heat for 2 minutes or until fragrant, then cool.
Grind roasted peppers, salt and rice flour until coarsely ground.
Place prawns in bowl and sprinkle with pepper mixture to coat.
Heat oil in wok and fry prawns in batches for 2 minutes or until cooked through.
Drain on absorbent paper.
Serve prawns immediately with dipping sauce and lime wedges to the side.