Salsa Wraps (Sandwich or Appetizer)
AmyMCGS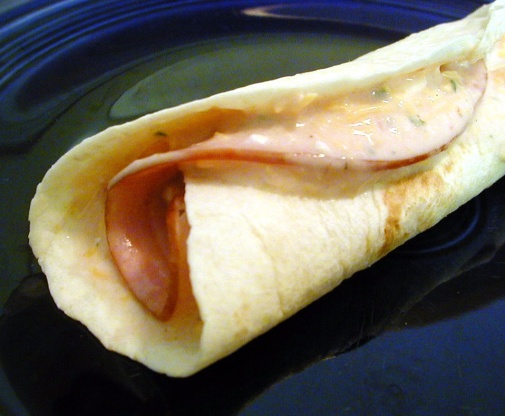 This is a wonderful twist on the generic cream cheese/ tortilla pinwheels that are served at lots of parties. You can slice these into pinwheels for an appetizer, or eat a whole tortilla as a sandwich. Green onions are another nice addition. I often leave out the ham and add more cheddar cheese-- either way, these are delicious!

This is great for a light lunch or in the winter with hot soup. Kids and adults both love this. It's quick, easy and filling and great for parties or get togethers. We've tried multiple types of cheese and mozzarella and colby are both good with the cheddar as well. Great for me because I'm not the best cook. It's error proof.
Combine cream cheese, sour cream, dressing mix, salsa and cheddar cheese in a medium sized bowl.
Spread even amounts of this mixture onto tortillas, and top with a slice of ham.
Roll tortillas and chill until serving time.
If desired, cut into 1" slices before serving. If serving whole, a toothpick may be needed to keep the wrap together.