Prep 15 mins
Cook 15 mins

Quick and easy, picante cooked tomato sauce for any Mexican dish, especially good for Huevos Rancheros, Enchiladas, etc.
Directions
Add all ingredients to a blender and blend until very smooth, it should be fairly thin.
Heat 2 TB oil in a large skillet(no teflon) over high heat until very hot, but not smoking. Add the contents of the blender to the skillet and "fry" the sauce, stirring constantly, and scraping the bottom of the skillet to keep from sticking. Be careful, it makes a mess in the kitchen, but it is well worth it, be sure to wear your apron! Fry the sauce for 10-15 minutes, until it is reduced and the flavors have blended well. Keep warm and use immediately, or store it in the fridge for 2 days, or in the freezer for two months. If using frozen, allow to thaw first and reblend quickly as it tends to separate.
* Cut the tomatoes in half and grate them with your cheese grater right down to the skin. This retains the pulp, and not the skin, without having to boil them. Discard skins. You can used canned tomatoes too if you don't have time.
* Use chipotles for a nice smoky flavor.
* Amount of chiles given makes a picante dish. Omit if you don't like it spicy, but I recommend at least one to give it some flair.
Most Helpful
I made a batch of this to top some chicken enchiladas for DH today -- I really liked how fresh this tasted. My sauce was very green because I opted for fresh basil instead of dried and I think I used a bit too much, but the flavor was great. I also couldn't find any serranos when I went shopping, so I just went with jalapenos instead. I think next time I might use this with chilaquiles instead of enchiladas. Finally, I've made a cooked salsa that is spicy enough for the Mexican DH, yay! Thanks for posting!

Rarely does one encounter a recipe that is this outstanding -- this one goes up front in my permanent cookbook. I've been looking for a great Ranchera Sauce, mostly for a recipe that I developed a few years ago which incorporates prime rib slices, taco shell, guacamole, shredded lettuce and eggs, and this sauce is just a perfect complement to top that Mexican breakfast dish. Great flavor, smooth consistency and, quality eye appeal. I went with the chipotles which turned out perfect. I have already tried this sauce on two or three leftover Tex-Mex items that I had in the fridge and the flavor is just superb. Tomorrow, I'm serving it over scrambled eggs and over western omlettes for a group that is coming here. I know that they will enjoy this fine sauce as much as I do. Thank you very much for this super recipe TJW. Big Pat.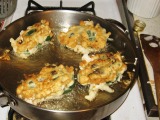 this is a really flavorul sauce . i love that fresh taste thank you for posting dee