Salsa Ranch Chicken Wraps
kearl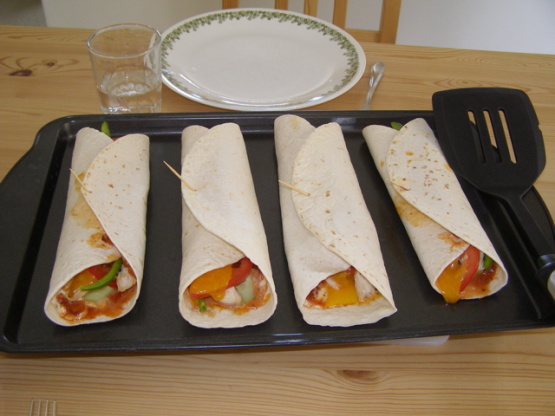 The combination of salsa and ranch adds a unique twist, and the chicken pieces are nice and tender.

We loved these wraps! To save time and eliminate the butter element, we heated ours in the microwave and they were delicious! The salsa and Ranch combo was great (I even made a mistake and mixed them together, but that was tasty too) :) and the veggie combination with it was outstanding! Hope to make this again and again. Thank you!
Spread 1 tablespoon of salsa and 1 tablespoon of ranch dressing over each tortilla. Place the chicken, cucumber, tomato and green pepper down each center; top with 1-1/2 slices of cheese. Fold ends of each tortilla over filling.
In a large skillet, melt 1 tablespoon butter. Place two wraps folded side down in skillet. Cook over medium heat for 3-4 minutes on each side or until lightly browned and cheese is melted. Repeat with remaining wraps and butter.