Lazarus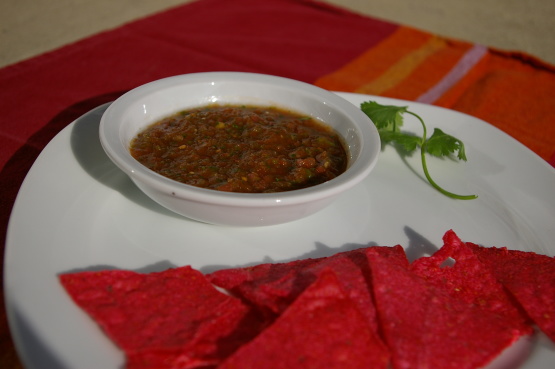 A totally delicious salsa recipe that combines fresh ingredients with cooked tomatoes that gives it a fresh but very salsa-y taste. I've finally gotten the ingredients down to exact measurements! I'm required by my [extended] family to keep at least half a gallon in my house at all times. Goes great with cheese dip, on tacos, in soups, whatever! In Paris, I made this all the time, and my friends would literally drink it. Out of wine glasses. Maybe they just missed Mexican food, but I'm thinking it's because the recipe is so good!

Very nice! Easy to make, very tasty, good texture. I used 3 jalapenos and it was still mild enough for my 5 year olds to enjoy. I think I'll try to add a little extra heat next time (oh yes, there will be a next time) and possibly add a splash of lime juice as well. Thanks for the recipe! Made for PAC Spring 2012.
2 -3

jalapenos, quartered
1⁄2 bunch cilantro (or a bit more)
1⁄2 lb onion, cut into 1-inch pieces (yellow or white)
3⁄4 lb roma tomato, cut into 1-inch pieces

3

(14 ounce) cans diced tomatoes, drained

2

teaspoons salt
Throw garlic, jalapeños, and cilantro in a food process and blend til pretty smooth.
Toss in onions and blend til pretty smooth again.
Throw in fresh tomatoes and chop til no big chunks of tomato.
Transfer mixture to the bowl in which you'll keep it.
Dump in all canned tomatoes and blend with an immersion blender until desired consistency.
Mix in salt and refrigerate for an hour. Taste and salt to taste.